The product was easy to assemble and has great height to racks with appropriate proportions to have multiple sized bikes all in next to each other without getting tangled
This premium bike parking rack can securely store 3 to 6 bikes side by side & is entirely freestanding
The Ultimate Storage Solution for Active Families (& Workplaces). Quick & Easy To Assemble
Bike Floor Parking Rack | Multiple Bike Floor Stand
Designed for all-wheel size bikes
A Variety Of Options to Choose From
FREE FAST DELIVERY ACROSS AUSTRALIA ON ALL ORDERS $60+ or more - Save $22
3 DAY DECEMBER SUPER SALE … Don't Miss Out
The multi bicycle stand can be reconfigured into any variation of three and can be installed in numerous locations.
The bike rack is constructed with high quality powder coated steel with a smooth finish to prevent scratches.
3 Bike Stand Specification
4 Bike Stand Specification
5 Bike Stand Specification
6 Bike Stand Specification
Looking For A Single Bike Stand?
DUE TO CURRENT DEMAND
PLEASE ALLOW 5-7 DAYS DELIVERY
STABLE & DURABLE
We have redesigned our value bike floor rack. The unique 2 holding plates both with tyre grooves are at an optimised holding angle. This fantastic feature ensures bikes are vertically held in the bike stands.
STRONG
The stand is made of quality steel. Also powder coated black finish is for long lasting. It is recommended to be used indoor only. The front and back plates holding system prevents the up holder (supporting the wheels) getting wider at the top. The wide holder will affect the bike holding stability.
EASY TO USE
The bike stand holders are all linked together, so the stand is heavier and more solid than single bike stand. Please watch our detailed instruction video in the listing.
COMPATIBLE
The rack is designed for all wheel size bikes from the range of 12″ to 20″ kids bikes, 20″ to 24″ BMX bikes, 26″ to 29″ MTB and 700c road bikes. Max tyre width: 2.5″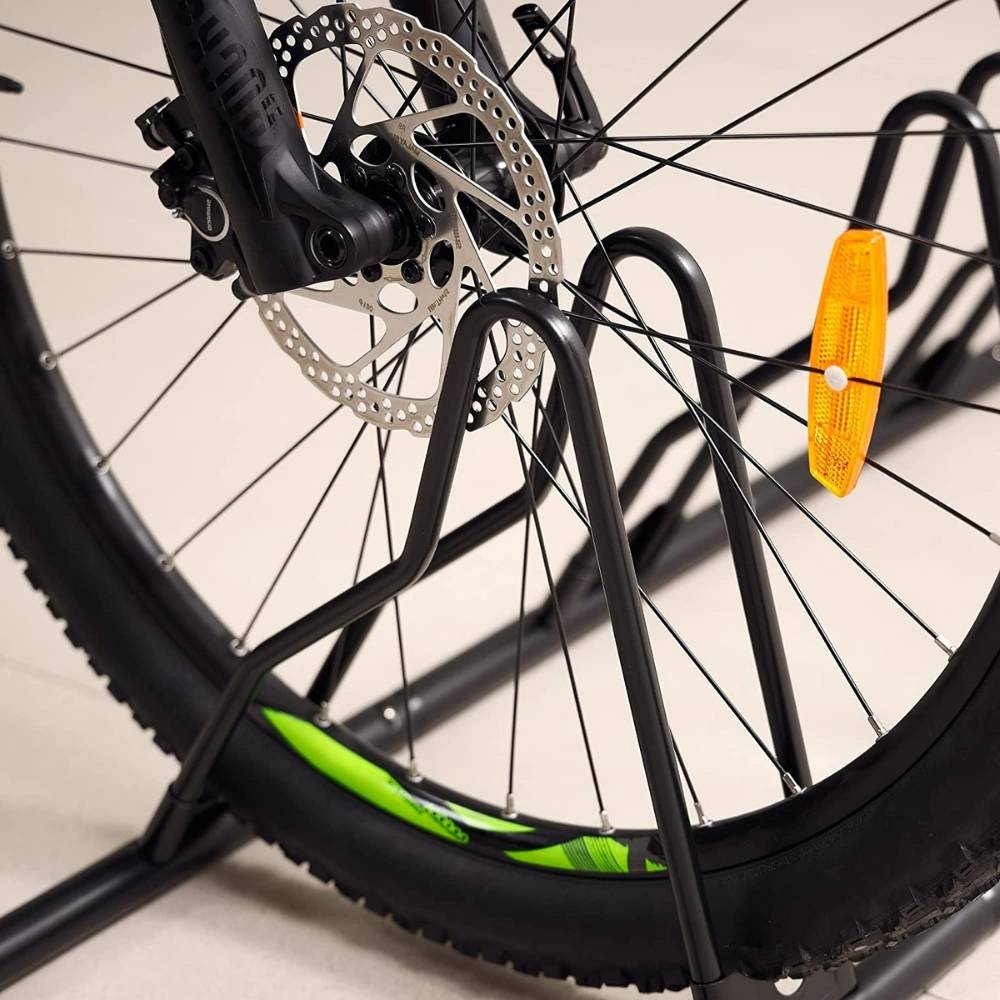 Frequently Asked Questions
Which payment methods are accepted?
We currently only accept credit card payments, PayPal & Crypto currency. More payment methods will be added in the future.
What currency are the prices displayed in?
All of our prices are displayed in $AUD.
What are your delivery options and how long will it take?
AUSTRALIA: Free Delivery, 5-7 days
OUR DELIVERY PARTNERS INCLUDE
Do I get a receipt for my order?
You will be sent a receipt for your order by email after payment is made. You will also receive a confirmation email with a tracking number once your item has been shipped.
Do you have a shop location?
We are a "online supplier", with no physical shop or premises. In this way, we are able to pass our considerable savings directly to you.
Do your products come with warranty?
Unless otherwise stated all items purchased from https://bikestand.net.au come with a standard consumer warranty.
Can I return my item?
We will gladly Refund or Exchange an item if:
The item is faulty
The item is not the same as the description or as shown or advertised
The item does not perform as per the manufacturers intention
You may not be entitled to a Refund or Exchange if:
You have changed your mind and no longer require the item
You decide you cannot afford the item
You found the item cheaper elsewhere
The style, colour, or size is not suitable
You were responsible for the fault
All refund requests MUST be accompanied with an original receipt or other proof of purchase.
Please feel free to discuss our policy with our Manager prior to purchase.
Note that measurements quoted on our website and affiliated sites and social media channels are subject to slight variances, when purchasing items measure all items to ensure they fit your space.
How do I know if my order has been shipped?
Once your order is shipped, it will be marked as complete in our database and you will receive a confirmation email with a tracking number.
I haven't received my order yet! Is it lost?
If you have any concerns with your order, please contact our support team by email and they will be glad to assist you. Most emails are answered within 1 business day.
Support Team: theteam@customersupport.care
What is a Multiple Bike Floor Stand, and how does it work?
A Multiple Bike Floor Stand, also known as a Bike Floor Parking Rack, is a device designed to securely hold multiple bicycles in an upright position. It typically consists of a sturdy frame with slots or hooks where the bikes can be placed. The stand provides stability and prevents bikes from tipping over, ensuring convenient and organized parking.
How many bikes can a Multiple Bike Floor Stand accommodate?
The capacity of a Multiple Bike Floor Stand varies depending on the specific model. Some stands can accommodate two bikes, while others can hold up to four or more. When choosing a stand, consider the number of bikes you need to park and ensure that the stand's capacity meets your requirements.
Are Multiple Bike Floor Stands suitable for all types of bicycles?
Yes, Multiple Bike Floor Stands are designed to accommodate various types of bicycles, including mountain bikes, road bikes, hybrid bikes, and even e-bikes. The stands typically have adjustable slots or hooks that can accommodate different frame sizes and styles, making them versatile for different bike types.
Can Multiple Bike Floor Stands be used indoors and outdoors?
Yes, Multiple Bike Floor Stands are suitable for both indoor and outdoor use. They are often used in garages, bike storage rooms, bike shops, and outdoor parking areas. The stands are typically made of durable materials that can withstand different weather conditions and provide secure parking options for bikes.
Are Multiple Bike Floor Stands easy to assemble?
Yes, most Multiple Bike Floor Stands are designed for easy assembly. They usually come with clear instructions and all the necessary hardware for setup. Depending on the specific model, assembly may involve attaching the frame pieces together, securing the slots or hooks, and ensuring stability. Some stands may require basic tools for assembly, but no specialized skills are usually needed.
Can Multiple Bike Floor Stands be adjusted for different bike sizes?
Yes, many Multiple Bike Floor Stands offer adjustable features to accommodate different bike sizes. The slots or hooks can often be adjusted horizontally or vertically to fit bikes with varying frame sizes and wheel diameters. This flexibility allows you to customize the stand to suit your specific bikes and ensure a secure and snug fit.
Do Multiple Bike Floor Stands provide stability for parked bikes?
Yes, Multiple Bike Floor Stands are designed to provide stability and prevent bikes from tipping over. The stands are typically constructed with a solid and sturdy base that keeps the bikes upright and secure. Additionally, some stands may have features like anti-slip feet or additional supports to enhance stability and ensure the safety of parked bikes.
Can Multiple Bike Floor Stands be used for bike maintenance or repairs?
Yes, Multiple Bike Floor Stands can be used for bike maintenance and repairs. The stands provide a convenient and stable platform for performing tasks like cleaning, lubricating, adjusting gears, or changing tires. By securely holding the bike in an upright position, the stand allows for easier access to various parts, making maintenance and repairs more efficient.
Are Multiple Bike Floor Stands portable and easy to move?
Some Multiple Bike Floor Stands are designed to be portable and easy to move. They may feature a lightweight and collapsible design, allowing for convenient transportation and storage. Other stands may have built-in wheels or handles that facilitate movement. If portability is a priority, look for stands specifically designed for easy transportation.
Are Multiple Bike Floor Stands durable and long-lasting?
Multiple Bike Floor Stands are typically made of durable materials such as steel or aluminum, ensuring their longevity and resistance to wear and tear. The stands are built to withstand regular use and exposure to different environmental conditions. It's important to choose a stand that is well-constructed and of high quality to ensure its durability and long-lasting performance.